Port Stirling Mystery #1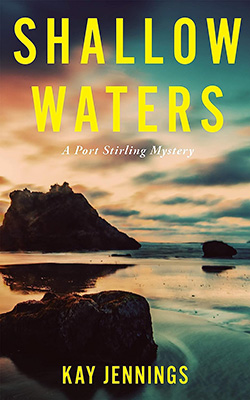 A sleepy Oregon coastal village with secrets as dark as its January storms. A new, handsome police chief with his own shadowy past.
"Brisk, instantly engaging police procedural"
—The Oregonian
The last thing Port Stirling Chief of Police Matt Horning needed on day one of his new job was for the mayor's daughter to turn up dead—stabbed to death—in a mysterious tunnel on a remote Oregon beach. Horning, escaping professional troubles in Texas, accepts the vacant job in Port Stirling, Oregon, looking for a fresh start in what he thought would be a peaceful coastal town where the far west meets the mighty Pacific Ocean. Nothing much ever happens here… or does it?
The crime doesn't make any sense, and there is no apparent motive for the murder of little Emily Bushnell. She wasn't sexually assaulted, her family is respected in the small community where everyone knows everyone, and there doesn't appear to be a reason for her death. Human bite marks on Emily's body discovered by the medical examiner during the autopsy add an even stranger twist to the puzzling homicide.
With only a ragtag county crime team to assist him, Horning must match wits with a diabolical killer, the likes of which this quiet village has never seen. An aggressive county district attorney with political ambitions, who doesn't fancy relinquishing the limelight to the new chief of police, makes Horning's job even more difficult. Will Matt be allowed a new beginning in his life, both personally and professionally, or will the forces in play be too many obstacles to overcome?
For one week in the wild and stormy month of January, Horning calls on all of his detective skills to investigate the unlikely murder. As soon as he starts asking questions, Port Stirling begins to unveil its dark underbelly amid stunning revelations.
From the 300-foot bluffs ringing the white-sand pristine beach, to the posh golf resort at odds with the blue-collar town, Chief Horning and his new team work at break-neck speed to uncover the facts. Without a murder weapon and very little physical evidence, will Matt and his new colleagues find the killer before he—or she—strikes again? Will a psychopath ruin Matt Horning's new life before he can even start it?
In this shocking story set in a beach town not unlike where she grew up, native Oregonian Kay Jennings introduces a thrilling new mystery series set alongside Oregon's rugged Pacific coast. Shallow Waters combines an intriguing police procedural with a spooky murder mystery in a remote part of southwest Oregon you aren't likely to forget.