Port Stirling Mystery #2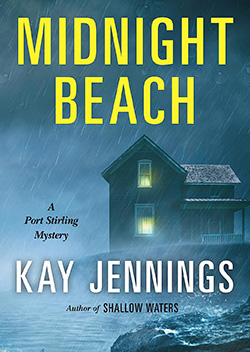 The fiction that is Midnight Beach was inspired by a true-crime incident. In 1977, a Panamanian-registered ship, the Cigale, attempted to unload about seven tons of marijuana, with a street value of $16 million on a deserted beach south of Bandon, Oregon. The plot was foiled by the U.S. Coast Guard, the Coos County Sheriff's Department, and local law enforcement officials. For many years, the drug sting was the largest on the west coast. I have stolen many of the facts from the actual raid and embellished them to suit my story, because what really happened is better than anything I could make up.
A brutally murdered federal agent, and distrust among his close colleagues greet Port Stirling Police Chief Matt Horning as he faces down a second homicide in his new Oregon hometown.
Is there really an international drug ring operating in his remote coastal village where nothing ever happens? Is this what Matt Horning bargained for when he took this job last winter? As spring blooms on the Oregon coast, are there also blossoming forbidden feelings within him?
Just when his police department gets back to normal after solving its first murder in decades, along comes another dead body found in a marsh near the Pacific Ocean. And this one has ominous overtones never before seen in Port Stirling.
Did Matt Horning bring this trouble with him when he fled a painful professional experience in Texas four months earlier? Dogged by his own demons, Horning must quickly face the facts; this is more than a few bad guys exchanging pot for cash. Much more. Does he have the resources and the experience to take back Port Stirling from those who would harm its peaceful vibe before it's lost forever?
Travel to Port Stirling, Oregon, and enter a beautiful, rugged coastal village about to face down an international threat.